DIGITAL
LEARNING

INITIATIVE
The Iman Academy's Digital Learning Initiative (DLI) has been a journey of collaboration coupled with care. It is a story of a team of educators coming together to step out of a 'comfort zone' and embrace a multitude of technologies that can enrich the teaching and learning experience.
"Taking this initiative was the best experience for me and my learners. I did not stop to think, I just embraced the idea of integration and literally overnight transformed into someone I am yet to recognize myself :)"
"Teaching is never going to be the same again! This is an absolute wonder and I can see magic happen in my learners!"
"Google certifications were not something I ever imagined in my teacher tool kit. I was hardly interested in technology. I was cruising along with the bare minimum tech tools. And now here I am with my collection of digital skills and badges rocketing my way up because of the sheer impact it is making in my students"
"I am proud to be one of the Education Technologies experts for early years at Iman Academy. It has been a transformational experience. One that I am thrilled to be exploring and excelling in"
Personalized Learning
The Google for Education platform provided ample opportunity to cater towards the individual child. Personalizing the package of lesson delivery ensures inclusivity and the students thrived on this attention. The Digital Learning Initiative transformed the individual pace, the differentiated learning, the one on one attention, the multitude of options made available to demonstrate student learning.
Differentiated learning assignments.
Embedding audio support through Mote, talk and comment tools for inclusivity and differentiation.
Seesaw Class allowing teachers to differentiate learning individualized learning assignments.
Individual attention through Google Meet.
Personalized audio feedback for students to have the feel of the teacher voice.
Immersive Reader to support all types of learners.
Engagement
&

Interaction

Engagement and interaction was no doubt the focal point of the Digital Learning Initiative of the Academy. When learning platforms changed overnight and the distance proved to be a barrier to effective engagement, technological tools required to be creatively and appropriately integrated to keep the students occupied, engaged and busy. Their attention and love for learning had to be sustained and thus the gamification element entered lessons that proved to be the effective technology to fulfill the purpose. Students responded enthusiastically to the efforts of the educators to earn their digital ambassadorship to various applications and use tools freely and efficiently.
Amplifying our student voices using Flipgrid activities.
Creativity
&
Integration
Virtual performance day themed "A voice not an echo" allowed young minds to articulate drama and arts despite the distance in between. Choirs and actors merged their individual parts performed at home, on various collaborative editing tools to present group performances.
Readacle – a virtual competition of reading articles under various genres to integrate all subject areas and interests. To feed the young minds' intrigue, challenges and levels were created in the most attractive digitalizations. This online competitive library has the reward system of digital badges customised for various challenges passed.
The online library remains for learners to access reading material as if they were in school.
The 'Kindness Quest' was aimed for the youngest age groups of Imanians, aged two and half to five and a half. To harness creativity and empathy right at the beginning of their schooling years even though it during this pandemic, the Academy's Digital Learning Initiative came to the rescue. Executing and recording acts and forms of kindness on all levels was their task of integration in their communication skills, where they expressed themselves through writing notes, recording audios and videos and crafting tangible gestures.
'Virtual Debate' is another creative effort to integrate language skills with analytical skills, troubleshooting methodologies and teamwork dynamics. The nature of these classroom sessions brought about digitised communicational discipline and etiquette.
Google sites for all classes and subjects were created for innovative class records for both educators and students. Daily schedule, session links, digitized notes, interactive games and other material used in classroom online and offline sessions were embedded for reinforcement. The utility for technological tools for daily classes along with presentation skills was integrated across the whole school community.
Harping on the skill of 'capturing a moment' buzzing in the millennial era, "Challenge the lens" project was created. The various skills used in photography and caption composition were maximised in this challenge.
A major integration that may have been left partially redundant was the physical aspect of learning. Iman Academy believes that the physical health that has been categorized as extra-curricular activities are in fact co-curricular. This initiated a "Virtual Field Fest", where competitive and time based activities were recorded and shared to win a place in the winning team(s). Certificates and medals were dispatched to keep the real world touch and the sports spirit going.
Using Google Sites for a one spot resource place for students.
Digital Badges for various challenges to promote healthy competition.
Collaboration
The most vital elements to keep a classroom engaged is to keep peership, feedback and correction, motivation and sharing of ideas ongoing for smooth learning. These elements were brought to life in the virtual world with the collaborative tools.
Google Jamboard, Slides, Docs, Sheets are such platforms used to collaborate in real time for learning and teaching purposes. All classes have these tools as part of daily classroom sessions for written feedback, evaluation and record keeping.
Using Google Docs for collaboration and group work.
Google Sites for student team-work.
Nearpod, collaborative boards are a great way to spark class discussion, brainstorm, or check in on how students are feeling.
Communication

&

Parent Collaboration
"Parents as Partners" has been a significant strength in Iman Academy's successes. This has been carried out through numerous strategies to stay connected and stay informed. The Seesaw mobile application and Google classroom Stream carries evidence of the partnership between home and school. The consistent flow of information has evidently been the factor that has influenced individual student growth both academically and otherwise.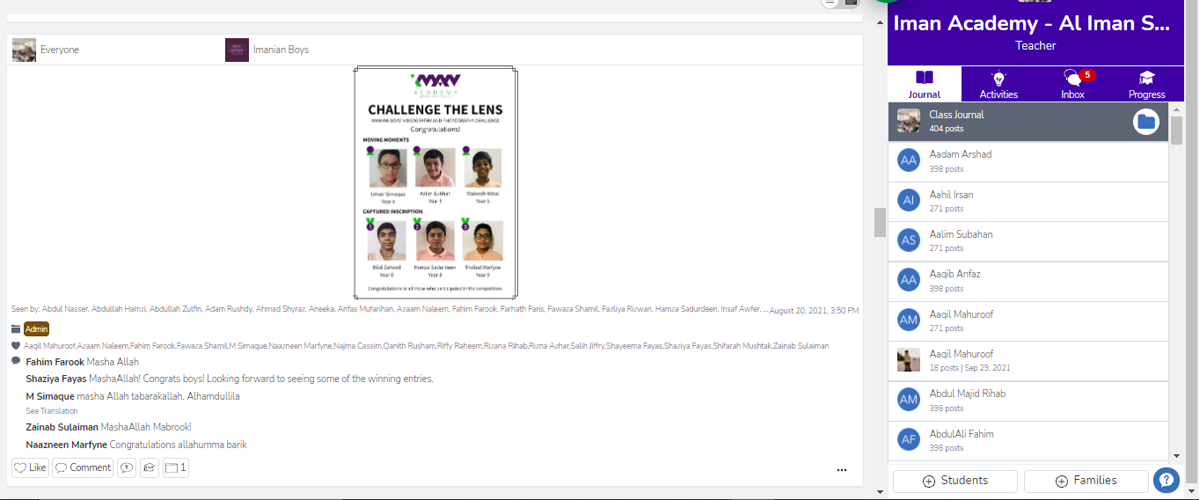 With the Seesaw Family app, parent communication and collaboration made easy.
Classroom parents announcements are just a click away with Seesaw.
One-on-one communication with the teacher.
Google Calendar appointment slots for parent collaboration.
Google classroom stream allows students to communicate with peers and encourages peer feedback.